Crying
Don McLean
23 hours ago
I Get Weak (Live)
Belinda Carlisle
23 hours ago
Forever Now (Live - 2003)
Cold Chisel
23 hours ago
I Want to Know What Love Is
Foreigner
23 hours ago
Thorn In My Side
Aretha Franklin & Eurythmics
23 hours ago
Six Months In a Leaky Boat
Split Enz
23 hours ago
Up Where We Belong
Joe Cocker
23 hours ago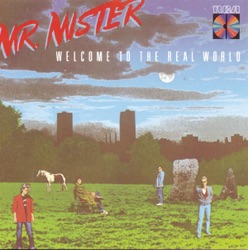 Kyrie
Mr. Mister
23 hours ago
Absolute Beginners (Single Version)
David Bowie
23 hours ago
I Found Someone
Cher
23 hours ago
Ver mais
Totally Radio 80s online
Just for Hits & Giggles
Totally Radio 80's is a Australian digital radio station owned and operated by Totally Media. Best known for musical genres such as 80s.
Categorias:&nbsp
Oldies, 80s
Frequência Totally Radio 80s
Adelaide: Online
Brisbane: Online
Camberra: Online
Gold Coast: Online
Melbourne: Online
Perth: Online
Sydney: Online
Ver mais
Top Músicas
Últimos 7 dias:
1. Tears for Fears - Shout
2. Aretha Franklin & George Michael - I Knew You Were Waiting (For Me)
3. Bruce Springsteen - Born In the U.S.A.
4. Steve Winwood - Valerie
5. Depeche Mode - Just Can't Get Enough
6. Inxs - What You Need
7. David Guetta & Madonna - Dress You Up
8. Robert Palmer - Simply Irresistible
9. Billy Joel - We Didn't Start the Fire
10. Wham! - Bad Boys
Últimos 30 dias:
1. Aretha Franklin & George Michael - I Knew You Were Waiting (For Me)
2. Robert Palmer - Simply Irresistible
3. Bananarama - Love in the First Degree
4. Communards, The - Never Can Say Goodbye
5. Inxs - What You Need
6. Inxs - Listen Like Thieves
7. Chaka Khan - I Feel for You
8. David Guetta & Madonna - Into the Groove
9. David Guetta & Madonna - Material Girl
10. David Guetta & Madonna - Dress You Up
Contactos
Redes sociais
Partilhar
Comentários