Telemann: Sonata in A Minor - (4) Vivace
Cologne Co/Helmut Muller-Bruhl
21 hours ago
Valse-Scherzo in C Major, Op. 34
Jo Sumin
21 hours ago
Julia Florida (agustin Barrios)
Christopher Laughlin
21 hours ago
Piano Concerto No. 19 in F, K. 459: 1. Allegro (Cadenza: Wolfgang Amadeus Mozart)
Clara Haskil
22 hours ago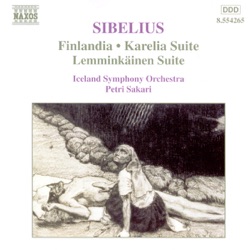 Lemminkäinen Suite Op.22: The Swan Of Tuonela
Jean Sibelius & Finnish Radio Orchestra
22 hours ago
Humoresque (Antonin Dvorak)
Nadanmusic
22 hours ago
Violin Concerto in F Minor, RV 297: II. Largo
Antonio Rotunda
23 hours ago
Piano Concerto No. 2 in F, Op. 102: II. Andante
Dmitri Shostakovich Jr.
23 hours ago
Johann Sebastian Bach: Sinfonia From Cantata No. 29
Eddy Grossenstein
23 hours ago
Die Geschopfe des Prometheus (The Creatures of Prometheus), Op. 43: The Creatures of Prometheus, Op. 43: Overture
Johannes Wildner, Camerata Cassovia & Kosice Teachers' Choir
23 hours ago
Ver mais
KUSC Classical 91.5 FM KDB online
KUSC is a non-profit Classical Music radio station owned by the University of Southern California. It operates using the frequency 91.5 FM in the Greater Los Angeles Area and live streaming globally through the internet.
Listeners and Classical Music aficionados financially support the station. Its line-up is music-focused, offering different music shows specialized in a particular decade or music style within Classical music, as well as live talk shows with elements of entertainment. The station also features several live concerts around the world.
KUSC takes a modern approach to the way it promotes Classical music, offering fun and educational segments such as the Great Composer Quiz on its morning show and compiling a Top 100 Countdown with the most popular classical pieces selected by listeners.
Popular shows
Classical California All-Night
Classical Music
Classical Requests
A Joyful Noise
A Musical Offering
Modern Times
Popular hosts
Rick Capparela
John Van Driel
Alan Chapman
Dianne Nicolini
Jim Svejda
Jennifer Miller
Gail Eichenthal
Categorias:&nbsp
Classical
Frequência KUSC Classical 91.5 FM KDB
Los Angeles: 91.5 FM
Morro Bay: 99.7 FM
Palm Springs: 88.5 FM (KPSC)
San Luis Obispo: 99.7 FM
Santa Bárbara: 93.7 FM
Santa Clarita: 91.5 FM
Thousand Oaks: 91.1 FM
Ver mais
Top Músicas
Últimos 7 dias:
1. Mozart Modern - Violin Concerto from Sinfonia Concertante In Eb, K. 364
2. George Frideric Handel - Bourree
3. Nadanmusic - Humoresque (Antonin Dvorak)
4. Ludwig Van Beethoven - Symphony 5
5. Thomas Farnon - HWV 7
6. Giuseppe Mazzoleni - Jules Massenet: Thais (Meditation)
7. Philippe Herlin - Sergei (Prokofiev, romeo and juliet)
8. Sleeping Mozart Relaxing Baby - Bedtime Mozart
9. Ralph Vaughan Williams, Liverpool Philharmonic Orchestra, Stiles Allen, Isobel Baillie, Muriel Brunskill, Astra Desmond, William Herbert, Richard Lewis, Norman Allin & Robert Easton - Ralph Vaughan Williams reminisces: No. 3, Ralph Vaughan Williams discusses Parry
10. Leonard Bernstein & Bedřich Smetana - Candide: Overture
Últimos 30 dias:
1. Mozart Modern - Violin Concerto from Sinfonia Concertante In Eb, K. 364
2. Arcangelo Corelli - Concerto Grosso In G Minor, Op. 6/8: 'Christmas Concerto'
3. Ludwig Van Beethoven - Symphony 5
4. George Frideric Handel - Bourree
5. Nadanmusic - Humoresque (Antonin Dvorak)
6. Sleeping Mozart Relaxing Baby - Bedtime Mozart
7. Camille Saint-Saens - Danse Macabre
8. Coleridge-Samuel Taylor - Eleanore
9. Edward Eikner - Suite Espanola, Op. 47 - Granada (Isaac Albeniz)
10. Mozart Modern - Clarinet Concerto In A, K. 622, Adagio
Podcasts Relacionados
Contactos
Morada:&nbsp
1149 S. Hill Street Suite H100 Los Angeles, CA 90015 USA
Telefone:&nbsp
213-225-7400
E-mail:&nbsp
support@uscradiogroup.org
Redes sociais
Partilhar
Comentários